California may fine water district $1.5 million
July 21, 2015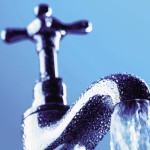 A Northern California water district with water rights dating back to 1914 may face a record $1.5 million fine. [LA Times]
Regulators with the State Water Resources Control Board have drafted a proposal to fine the Byron-Bethany Irrigation District. If the irrigation district is hit with the fine, it would be the largest penalty received by a California agency with water rights dating back more than 100 years.
The State Water Resources Control Board accuses the Byron-Bethany district of illegally diverting more than 670 million gallons of water from a California Aqueduct intake channel. The alleged offense occurred in June over a period of nearly two weeks.
Just prior to the alleged illegal diversion, the water board sent a curtailment notice to a group of Central Valley water rights holders, some of whom have claims that date as far back as 1903. The order prohibited those with priority dates of 1903 or later from continuing to divert water from the Sacramento-San Joaquin watersheds and delta, citing insufficient supply.
The Byron-Bethany district has since joined a lawsuit against the water board over the curtailment order. Irrigation district officials contend the water board's proposed fine is retaliation against them for participating in the lawsuit.
District officials have also released a statement saying the curtailment order would "strangle family farms, kill vital crops, compromise thousands of livestock, raise consumer prices, destroy thousands of jobs and ultimately eliminate the ability to farm the land."
The Byron-Bethany district supplies water to 160 farmers, as well as to 15,000 residents in the master-planned community of Mountain House. The district consists of 45 square miles in Alameda, Contra Costa and San Joaquin counties
Water board prosecutors say it is highly likely other districts will also face fines in the coming weeks. The state board can fine water rights holder up to $1,000 a day and $2,500 per acre-foot of diverted water for violating curtailment orders.
The agency claims it could fine Byron-Bethany as much as $5 million.