Farm workers file lawsuit against Abel Maldonado
July 18, 2015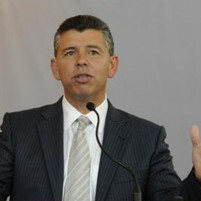 Several farm workers filed a class action lawsuit Wednesday that says former California Lt. Gov. Abel Maldonado and his family failed to pay overtime wages, reimbursed for expenses and provided meal and rest periods to their employees. [Tribune]
San Luis Obispo attorney Allen Hutkin filed the suit on behalf of two plaintiffs and more than 100 other past and present employees of Agro-Jal Farming Enterprises, which operates in San Luis Obispo and Santa Barbara counties. The suit focuses on the past four years, though it claims the violations have occurred for much longer.
According to the lawsuit, the Maldonados worked their employees 13-hour days six days a week and six-hour days on the seventh day without paying them overtime wages. The law requires employers to pay agricultural workers overtime for more than 10 hours a day during the first six days of a week and anything over eight hours on the seventh work day.
While running for Congress, amid allegations that Agro-Jal owed more than $100,000 in taxes, Maldonado said he parted ways with the business in 2012.
Since the 1990s, Agro-Jal has accumulated dozens of Cal/OSHA violations and hundreds of thousands of dollars in fines while Maldonado served as the farm's controller.
In early 2011, Maldonado's family business was cited for allowing farm equipment to work the fields with no driver at the wheel. In 2010, Cal/OSHA cited Agro-Jal four times for running unmanned tractors and for failing to provide adequate access to shade or water for employees.
On Nov. 4, 2011, inspectors lodged two complaints against Agro-Jal for not operating under mandated safe work practices and for failing to report employee injuries. More than 600 employees were exposed to harm because of the farm's operational deficiencies, according to Cal/OSHA.
The Nov. 2011 inspection resulted in fines of $23,000.
As a legislator, Maldonado voted against several bills that would have set standards for controlling the risks of heat-related illnesses, and others regarding mandated meal and rest periods for employees who work outside.
Maldonado's father came to California from Mexico in the early 1960s. Abel Maldonado grew up working on the farm with his family.
During his campaign for Congress, Maldonado frequently touted his business savvy and work ethics learned while working to build up his family's business — which now includes more than 6,000 acres.