July storm sets SLO County records, knocks out power
July 20, 2015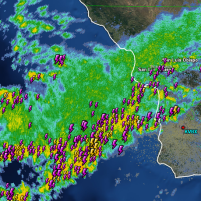 Record rainfall totals and power outages occurred across San Luis Obispo County over the weekend as rare July thunderstorms soaked the Central Coast.
Paso Robles accumulated the most rainfall in the county, totalling 3.55 inches by Sunday evening, PG&E's John Lindsey announced. The previous Paso Robles record for the entire month of July was .59 inches.
Rainfall in San Luis Obispo totaled 1.4 inches, as of early Monday morning, according to the county public works department. Lindsey said in a tweet that San Luis Obispo's previous record for July was .46 inches.
Both of the old records were set in the 1950s.
By Sunday afternoon, 10,500 customers in SLO County and Northern Santa Barbara County lost power, Lindsey tweeted. On Monday morning, 1,872 customers in SLO County remained without power.
The largest outages that remain are in Paso Robles and Templeton. About 2 inches of rain fell in Templeton.
Power went out in Paso Robles after lighting struck a power pole. Lightning also hit a power pole in Oceano, causing 2,823 customers to lose power.
The Central Coast thunderstorms were remnants of Tropical Storm Dolores, which was formerly classified as a hurricane.