Grass fire at Topaz Solar Farm
July 1, 2015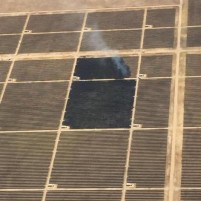 A grass fire at the Topaz Solar Farm in San Luis Obispo County burned three acres on Wednesday afternoon, according to Cal Fire.
Shortly after 2:30 p.m., Cal Fire responded to reports of a one acre grass fire that was burning underneath the plant's solar panels. The fire burned three acres before it was put out at about 3:39 p.m. The solar panels did not catch fire.
Plant staff suspect the fire was started because of an electrical issue. Nevertheless, the cause of the fire remains under investigation.