Lacey Fowler seeking release from jail
July 16, 2015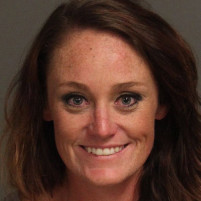 Former Cuesta College human resources analyst Lacey Fowler, who has been arrested four times in a span of less than two months, asked a San Luis Obispo judge to release her from jail. Judge Michael Duffy denied the request and instead raised her bail. [Tribune]
Fowler, 29, is facing numerous felony and misdemeanor charges, including one count pertaining to a breach of the Cuesta College data system. On Monday, she failed in her attempts to first flee from police and then to strike an officer.
On Wednesday, Fowler appeared in court for an arraignment hearing. She pleaded not guilty to all of the charges against her.
During the hearing, Fowler requested that she be released from jail while her court proceedings continue. After Duffy denied the request, Fowler's public defender, Patricia Ashbaugh, asked the judge to reduce her bail.
But, Duffy set Fowler's bail at $950,000 and said a high bail is appropriate. Duffy said, though, he would take input from the county probation department on the bail reduction request.
Fowler's bail was set at $727,000 on Monday, after Paso Robles police officers managed to take her into custody.
Court records state Fowler forfeited $115,000 of previous bail.
Fowler's felony charges include burglary, forgery, unlawfully accessing data and possession of methamphetamine and cocaine packaged for sale. The misdemeanors she faces include battery on a spouse, violating a restraining order and resisting arrest.
In late May, Fowler allegedly breached the Cuesta College data system remotely and emailed employee names, home addresses, email addresses, phone numbers and social security numbers to her private email account. When officers searched her home, they discovered more than four pounds of methamphetamine and heroin.
On July 6, Fowler failed to appear at a court hearing on the charges of unlawfully accessing data, spousal abuse and failure to comply with a restraining order. The following day, she allegedly burglarized a commercial vehicle and cashed a forged check at the Paso Robles Walmart.