Man survives plunge into SLO meat grinder
July 17, 2015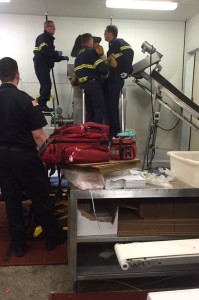 A worker at a wholesale grocer in San Luis Obispo almost lost his life inside a meat grinder Thursday, but a co-worker came to the rescue. [Tribune]
At about 2 p.m., the worker, who is described as a man in his 20s, was operating a meat grinder at Vitco Food Service on Capitolio Way when he reached into the hopper of the grinder to dislodge meat that appeared stuck. The machine caught the worker's sleeve and pulled him in the grinder, San Luis Obispo Fire Battalion Chief Bob Bisson said.
A co-worker heard the man screaming and hit a kill switch.
The machine shut off just before the man's arm reached the grinding section. Bisson said he believed the co-worker saved the man's life by hitting the kill switch.
When San Luis Obispo fire personnel arrived, they used hydraulic rescue machines to dismantle the meat grinder and pull the man out. The worker's arm was seriously fractured in several places.
Emergency personnel transported the man to Sierra Vista Regional Medical Center for treatment