Motley Crue burns midnight oil, fans at fair
July 28, 2015
By COLIN JONES
I love those UPS ads that talk about their dedication to logistics. It's probably something nobody but those in the delivery biz give a lot of thought to.
Well, the first Saturday night concert at the 2015 California Mid-State Fair was a big lesson on the importance of those logistics and basic event planning. Getting two headlining rock bands from Tacoma to Paso Robles to Montana for three shows in three nights requires the special transportation karma of Star Trek's Scotty. So it really wasn't too surprising when the classic rock revival tour that is Motley Crue/Alice Cooper finally strutted onto the Chumash Arena stage at 10:40 pm over three hours late, apparently due to airplane issues.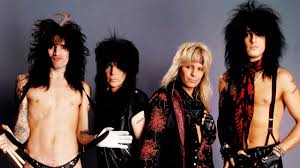 Now we are talking about a rock concert, which probably ranks just ahead of ants in my sink in the worldly significance category. No one got hurt, died or suffered much beyond a bruised wallet and few hours less sleep.
But annoying it was for sure, even as the balmy night stench of manure and Bud Light and the free-wheeling live music experience that is Paso in July kept the crowd giddy in anticipation. Rock and rollers are the most easygoing, low maintenance people around. Give them some loud noise, strobe lights, plenty of the aforementioned adult beverage, maybe throw in a little skunk weed and they are a happy lot. Most bands know this and take full advantage of their fans' forgiving nature.
Fortunately, some artists like Alice Cooper get it. You are only as good as your last gig so you had better bring it every night. Sure, he blazed through hit after hit and condensed an hour and a half performance into 45 minutes but everyone loved his theatrical shtick that accompanied all those teen angst songs, roaring their approval.
However, the same could not be said of LA-based Crue, who dominated the 1980s with their unique glam rock/hair metal style. They are in the midst of a farewell tour after 35 years of musical and personal destruction. Perhaps all that hard living has finally caught up with the boys, who were clearly flat in an abbreviated 60-minute set that began just before midnight. The real culprit was front man Vince Neil, who pranced around the stage but could not keep lyrical pace with the thundering rhythm section of bassist Nikki Sixx and drummer Tommy Lee. Even frail lead axeman Mick Mars showed brief flashes of his guitar greatness.
Neil, who has a distinctive falsetto that's as much a part of Motley's sound as DLR of Van Halen or Steve Perry of Journey, was clearly the weak link. He seemed to forget words, not enunciate them or just blow them off. Hey Vince, you're a singer, it's not a Joe Satriani instrumental thing.
Like Alice opening, Motley Crue rushed through their songs, probably anxious to get back to their hotel conference room to work out the difficult logistics of getting to Billings for a Sunday night show and their next big payday. One hour exactly with no encore after closing the 10-song set with Dr. Feelgood. But a feel good night it was not, reminding me of Johnny Rotten's classic proclamation at the Sex Pistols final show in San Fransisco. Ever get the feeling you've been ripped off?
And you know it's going to be a long, forgettable evening when Journey's DSB plays three times on the pre-show sound system loop as the faithful restlessly wait. I think the highlight for my buddies was spotting Ron Jeremy coming out of the bathroom. Bummed I missed out on that.
Local radio hyped the big concert ad nauseam for several months but sadly for about 10,000 rock fans hoping to witness a headbanging band go out with a bang, it didn't live up to the hype.
Not even close.