Wildfire burns 140 acre near Lake Nacimiento
July 11, 2015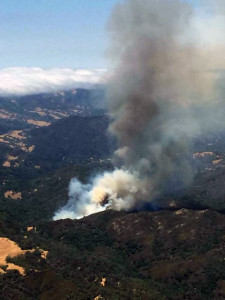 A wildfire that erupted southwest of Lake Nacimiento on Friday has burned 140 acres.
The Deer Fire broke out at about 12:30 p.m. in a difficult to access area. No structures have been threatened.
On Friday evening, one firefighter suffered burns to his feet. In addition, the main runway at the Paso Robles airport was shut down for five hours after a plane accidentally dumped a load of fire retardant on the runway.
Cal Fire officials said Saturday morning that the fire is 20 percent contained.
Get fire updates, like CCN on Facebook.