Boston brings home the bacon
August 4, 2015
By COLIN JONES
If I said it once, I'll say it a hundred times: there's no bigger, better event in San Luis Obispo County than a headliner concert at the California Mid-State Fair. Sure, it's hot and smelly with lots of parking and traffic hassles, overpriced, heart-attack inducing fried food and weird, useless stuff you can only buy there and on daytime TV.
But hey, don't sweat the small stuff because it's also the best place on the Central Coast to experience big-name musical entertainment, party-style.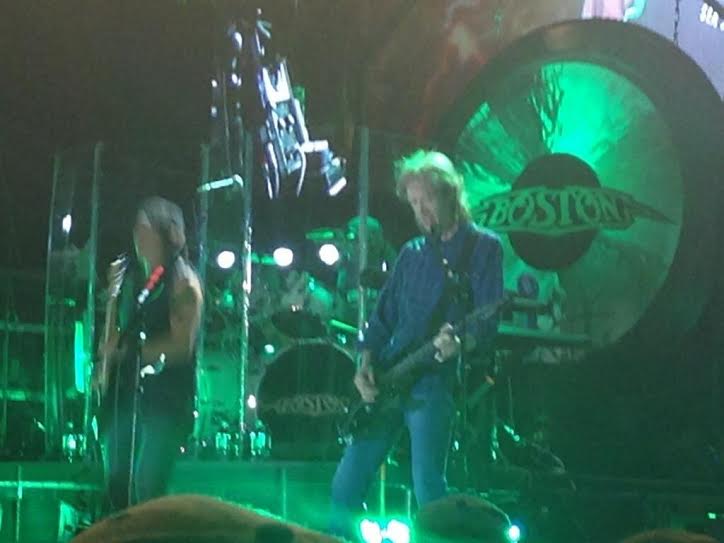 Classic rock legends Boston proved this once again at Music and Wine night on Friday with a memorable 23-song, 105-minute set that by show's end brought folks off their butts to dance off all that liquor and food.
Concerts there are mostly a hit with a few big misses this year like Motley Crue and a distracted Stephen Stills, who after 50 years of performing has apparently lost the ability to sing and strum in tune. And Mini-Kiss, really? According to my peeps, it was little people lip-synching and fake playing classic glam rock. I knew that was a bad idea from the get-go so glad I took a pass on some creepy voyeurism.
However, fair organizers are definitely onto something with their inaugural Brews and Blues, complementing the aforementioned wildly popular Music and Wine night. Blues guitar whiz Robert Cray was stellar as always, the one everybody seemed to be there for so he probably should have been the headliner instead of Stills.
The boys from Massachusetts, despite sporting only one original band member, albeit the most important one: songwriter, producer and multi-instrumentalist Tom Scholz, had their groove on early and were completely in their element amongst the wine and cheese crowd.
Ten songs into their set, even the lively, catchy 'Something About You' got a young couple behind us stepping out and swing dancing…yes to Boston!
That's the kind of thing you only see at the fair.
We hung out and stood along the side of the floor/dirt, slowly making our way to the front by the big screens as two other friends found an abandoned table, macking out on some leftover vittles. As much as I like the wine night vibe, for me rock & roll at the Mid-State Fair is about dancing with a Bud Light in one hand and a lighter in the other, not sitting, sipping and nibbling.
However by nightfall, most patrons were out of their seats and grooving to hit after hit by these rock music icons. It's remarkable that Boston's first three albums from 1975 to 1986 yielded so many great songs with virtually no filler.
And the cozy, friendly Chumash Arena venue certainly made the show extra special. I saw them a few years ago at Shoreline in the Bay Area and there's no comparison. It's too bad we don't have concerts year-round, or at least all summer long, at the Fairgrounds. Wouldn't that be sweet?
For now, we'll just savor the 12 days of mid-summer, good-timey live music in the western world of Paso Robles.
Don't miss links to local news stories, like CCN on Facebook.