Salinas DMV employee traded drivers' licenses for bribes
August 11, 2015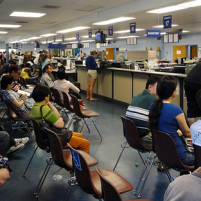 A Salinas DMV employee pled guilty Tuesday for her part in a conspiracy to sell class A commercial driver's licenses to people who had not passed the required tests. Five other people, including two DMV employees, were charged in a 17‑count indictment unsealed Friday, according to a Department of Justice press release.
From June 2011 through March 2015, three owners of truck driving schools took money from people who wanted commercial driver's licenses and did not want to take and pass the required written and behind-the-wheel driving tests. The driving school owners then used the money to bribe DMV employees to submit false information through DMV computers.
On Tuesday, Salinas DMV employee Emma Klem, 45, and trucking school owner Kulwinder Dosanjh Singh, aka Sodhi Singh, 58, of Turlock, plead guilty to conspiracy to commit bribery and to commit identity fraud. Klem and Sodhi Singh face a maximum statutory penalty of five years in prison and a $250,000 fine for each count.
As part of the guilty pleas entered this morning, Sodhi Singh admitted accepting money to bribe DMV employees to obtain licenses for individuals. DMV employee Emma Klem admitted changing DMV data to indicate that those individuals had passed behind-the-wheel tests, when in fact they had never taken the test.
The number of driver's licenses issued as a result of the scheme could number over 100, according to court documents. The DMV has already canceled or revoked a number of licenses that appear to have been fraudulently procured.
Friday's indictment charges trucking school owners Pavitar Dosangh Singh, aka Peter Singh, 55, of Sacramento; and Mangal Gill, 55, of San Ramon; and DMV examiners Andrew Kimura, 30, of Sacramento; and Robert Turchin, 65, of Salinas, with conspiracy, bribery, and fraud in connection with identification documents. The indictment specifically references the involvement of Klem and Sodhi Singh.
"These investigations and the criminal charges they produced send a very clear and loud message that the Department of Motor Vehicles takes fraud and illegal activity very seriously, and it is absolutely not tolerated," stated Frank Alvarez, Chief Investigator, California Department of Motor Vehicles. "DMV has already taken action and cancelled or revoked a number of licenses that appear to have been obtained through fraudulent means."
These cases are the product of investigations by the Federal Bureau of Investigation, the U.S. Immigration and Customs Enforcement's Homeland Security Investigations, the California Department of Motor Vehicles' Investigations Division and the Office of Internal Affairs.
Get breaking news, like CCN on Facebook.