Tablas Creek Vineyard wins top winery award
August 6, 2015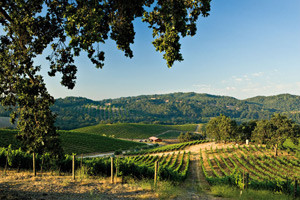 Tablas Creek Vineyard was awarded the top spot on Daily Meal's list of 101 Best Wineries in America for 2015.
Wineries were selected based on input from a panel of sommeliers, wine writers, chefs and restaurateurs while taking into consideration factors such as innovation, unique growing regions, influence, and value. Judges did not rate individual wines, instead selecting winners by the overall place of each winery in the American wine scene.
"A leader in the use of Rhône varietals in the Paso Robles region, a leader in the fight for approval of 11 sub-districts in the area, and a leader in advancing sustainable and biodynamic vineyard practices not just in its own region but throughout California, this 25-year-old Paso Robles property — owned by noted wine importer Robert Haas and the Perrin family of Château de Beaucastel (Rhône Valley royalty) — is as good as it gets.
"The wines are just amazing," the Daily Meal said.
Tablas Creek Vineyard is the result of a decades-long friendship between the Perrin family of Château de Beaucastel and Robert Haas, longtime importer and founder of Vineyard Brands. The families created a partnership in 1985 and in 1989 purchased a 120-acre property in the hilly Las Tablas district of west Paso Robles.
"We are honored and humbled to be named number one in the company of so many tremendous friends, neighbors and colleagues," Haas said.