This vehicle is suspected of sparking Cuesta Fire
August 25, 2015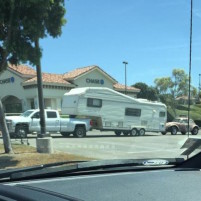 Cal Fire has released a photo of a truck that is suspected of causing the Cuesta Fire.
The photo, which was taken in an Arroyo Grande parking lot, shows a white pickup truck with an RV and a Volkswagen Beetle attached. A Cal Fire tweet accompanying the photo directs anyone who has information about the vehicle to contact the arson hotline.
Cal Fire did not release any more information about the vehicle or a potential arson suspect. After the Cuesta Fire broke out on August 16, fire officials said they believed a Ford truck dragging a chain started the five fires between Buelton and Shnadon.
The fire has burned at least 2,446 acres in and around Santa Margarita. As of Monday night, it was 85 percent contained.
More than 1,300 fire personnel are still battling the blaze. High temperatures, low relative humidity and shifting winds still pose a threat for increased fire activity, according to a Cal Fire report released Monday evening.
The report states poison oak has impacted 122 firefighters. One firefighter suffered minor injuries last week after falling in steep terrain.
The fire has burned one barn and threatened other structures.
The phone number for the arson hotline is (800) 468-4408.