Video shows shark swimming with surfers by Pismo Beach
August 11, 2015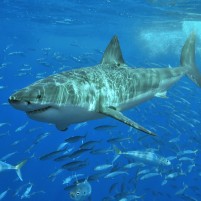 A Bakersfield field man captured drone footage of a shark swimming in close proximity to surfers offshore of the Oceano Dunes. [Daily Mail]
Dustin McCaslin flew a DJI Phantom 3 drone overhead of surfers Saturday morning. He initially thought that he had filmed seaweed between the surfers.
While watching the footage, though, he realized he had filmed a shark. The shark was identified as a great white, approximately 10 feet in length.
McCaslin took the footage to a lifeguard, who said that sharks are always out there, but people usually cannot see them. The surfers were unaware of the shark swimming beside them Saturday.
It appeared a second shark joined the great white during the recording.