Another shark spotted in Morro Bay
September 3, 2015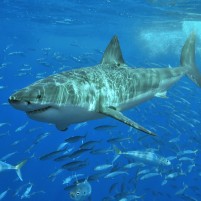 Four days after a shark bit off a chunk of a woman's surfboard, surfers again rushed out of the water after several people noticed a shark swimming in the ocean off Morro Bay. [KSBY]
Last week, a shark bit off an approximately 14-inch wide chunk of the surfboard a Los Osos woman was riding on Saturday. Elinor Dempsey, 54, escaped the attack uninjured.
Around 11 a.m. Wednesday, about 50 surfers paddled to shore near Morro Rock after spotting a shark's fin between them. The shark was just 60 feet from shore and about 30 to 50 feet away from the surfers.
The Morro Bay Harbor Patrol received several reports of the shark. Harbor Patrol officials say the shark spotted Wednesday was possibly a 10 to 15-foot great white.
Officials notified people in the water and put up warning signs. But, they did not close down the beach.
Ralph Collier, of the Shark Research Committee, said he thinks one or two great white sharks may have taken up residency in Morro Bay. Collier said a shark is demonstrating territorial behavior by biting a surfboard, and it may consider the board a threat.
Collier measured the space between the teeth marks on Dempsey's surfboard. He estimates the shark that bit her board was 11 to 12-feet long.
Collier also said warming El Nino waters are causing more sea creatures to come closer to the shore, and something unusual is going on in Morro Bay.