Grover Beach chief's dishonesty claims rejected again
September 8, 2015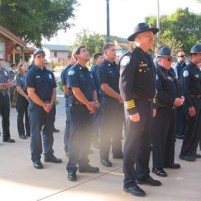 CORRECTION: The attorney hired to assist on the case against Sonny Lopez does not work for Grover Beach City attorney Martin Koczanowicz' personal law firm as Lopez and his  had previously asserted. 
By KAREN VELIE
For the fourth time, an outside body has looked into the termination of a police officer by Grover Beach's current and former chief of police and found the actions to be unfounded. The latest determination is slated to cost taxpayers well over $500,000.
In 2010, officer Santino "Sonny" Lopez was dispatched to a kidnapping in progress. On arriving at the scene, the mother of the six-month-old baby told Lopez a deranged man had locked himself in a cramped, dark garage with her baby.
Lopez utilized his Taser as a flashlight and a recording device. During the incident, Lopez fired his Taser, though it did not make contact with the suspect.
Following the incident, Lopez wrote a report based on his partially blocked angle of sight, according to court records. However, the recording from the Tazer contradicted Lopez' report which he wrote before being permitted to view the tape.
Police department officials then determined Lopez had intentionally misrepresented the facts and placed him on paid administrative leave while they worked to terminate his employment. At the time, as president of the Grover Beach Police Officer's Association, Lopez was involved in contentious negotiations with his superiors.
While Lopez was on administrative leave, city attorney Martin Koczanowicz, former chief Jim Copsey and then commander and current Chief John Peters began labeling Lopez a Brady cop based on the kidnapping incident. A Brady cop designation means an officer's testimony is of little value in a court due to a history of dishonesty.
Nevertheless, during a 2010 hearing in which Lopez was to testify, a judge ruled that Lopez was not a Brady cop and ordered him to testify, court documents show. Even though the judge ruled Lopez was not a Brady cop, Grover Beach officials continued to make that claim and the judge's determination was unknown to Lopez because city officials asked that the record be sealed.
Lopez then appealed his termination and the city appointed former San Luis Obispo Police Chief James Gardiner to preside over the appeal. Gardiner concluded that there was no merit to the dishonesty allegations and recommended Lopez be rehired.
Nevertheless, Koczanowicz, Copsey and Peters disagreed with the finding and the case went before San Luis Obispo Superior Court Judge Dodie A. Harman who also found Lopez' use of a Tazer justified. Harman ordered Lopez reinstated with full back pay and benefits.
The department then required Lopez to get a psychological exam from a doctor selected by the city before he could return to work. Based partially on reports from Copsey, Dr. Gordon Wolf determined Lopez was not fit for duty.
On Sept. 3, 2013, the Grover Beach Police Officers' association sent a letter to City Manager Bob Perault asking him to reinstate Lopez while noting the allegations appeared to be motivated by personal disputes.
"It is evident the chief is trying every avenue possible not to reinstate officer Lopez," GPOA President Juan Leon wrote in the letter. "The chief's questionable actions and your continued support of these actions are putting the city at risk for increased liability.
"Officer Lopez is a decorated and respected law enforcement officer. We urge the city to rethink the handling of this matter and have officer Lopez brought back to full duty without further delay."
On Oct. 31, 2013, the city terminated Lopez a second time.
In the latest arbitration that concluded Aug. 26, Hugo Rossitter determined that Lopez was and is fit for duty. The city has again been ordered to reinstate Lopez to his former position and to provide him full back pay and benefits.
"They have really wasted a lot of public resources and time," said Lopez' attorney Alison Berry Wilkinson, with the Berry Wilkinson Law Group. "All of their allegations have been completely baseless, this time and last time."
Lopez has not served the city as a police officer since Nov. 2010. In just back pay and paid administrative leave, the city's cost is more than $400,000. This does not include court fees and attorney costs. The final cost to tax payers for the multiple attempts to terminate Lopez are not yet known.
At the Sept. 8 Grover Beach City Council meeting, city officials will discuss Lopez' latest arbitration ruling in closed session.
In June, Lopez filed a $2.3 million defamation claim against the city, Copsey and Peters. The city denied the claim, giving Lopez six months to file a civil suit.