Haggen files for bankruptcy
September 9, 2015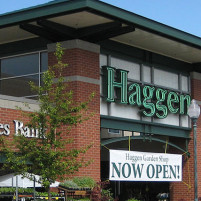 Grocery chain Haggen has filed for bankrupty following a troubled expansion into new locations, including the Central Coast.
The Washington-based supermarket chain filed Tuesday for Chapter 11 bankruptcy protection. Chapter 11 bankruptcy would allow the company to reorganize its business and assets, in addition to restructuring its debt.
Haggen filed for protection in a federal bankruptcy court in Delaware. The grocer listed more than a dozen creditors in the bankruptcy filing, and it claims to owe them about $14.8 million.
Haggen also said it has received commitments of up to $215 million in financing from existing lenders in order to keep its operations running.
In Dec. 2014, Haggen bought 146 Albertsons, Vons, Pavilions and Safeway stores. Before the purchase, it operated just 18 stores.
The Washington grocer purchased the 146 stores after federal regulators ordered Albertsons and Safeway to sell locations as part of a merger.
Shortly after Haggen took over the stores, prices increased and some of the previously stocked items were no longer available. Many of the stores' customers left.
Last month, Haggen announced plans to close 27 stores. It previously laid off workers while cutting the salary and benefits of others. Dozens of Central Coast workers have lost their jobs since Haggen took over the grocery stores.
Earlier this month, Haggen sued Albertsons seeking more than $1 billion in damages. The suit followed a lawsuit Albertsons filed against Haggen in July.
Haggen accuses Albertsons of providing false, misleading and incomplete retail pricing data, causing Haggen to unknowingly inflate prices. The grocer also alleges Albertsons deliberately understocked certain items and overstocked perishable items.
Haggen claims Albertsons's actions led to the bankruptcy filing.
In its lawsuit, Albertsons alleges Haggen failed to pay for more than $36 million for merchandise that was included in the sale.
Haggen CEO John Clougher said in a news release Tuesday that Chapter 11 bankruptcy is the best way for Haggen to preserve value for stakeholders.
"The action we are taking today will allow us to continue to serve our customers and communities while providing Haggen with a process to re-align our operations to be positioned for the future," Clougher said.