Student struck by car outside Righetti High School
September 9, 2015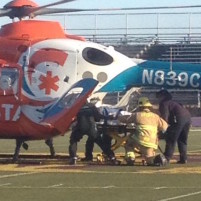 An emergency helicopter landed on the Righetti High School football field in Santa Maria Wednesday morning and airlifted an injured pedestrian to the hospital, according to the Santa Barbara County Fire Department.
The injured pedestrian was a 14-year-old girl who attends the high school. She suffered major injuries in the accident. [KSBY]
Around 7 a.m., a Chevrolet El Camino hit the teen while she was walking to school. At the time of the collision, the girl was crossing a crosswalk at the intersection of Bradley and Foster roads, just outside the high school.
The California Highway Patrol is investigating the crash. Officers say they believe the girl did not see the vehicle.