Monarch Grove robber also suspected in Goleta robbery
September 22, 2015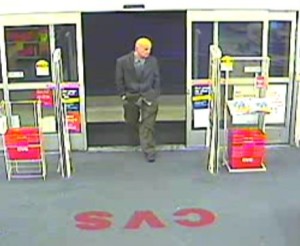 Santa Barbara County Sheriff's detectives are trying to determine whether the man who robbed the Monarch Grove Winery on Sunday also robbed a Goleta CVS late that night.
Around noon Sunday, a robber wearing an old man mask, an Elvis wig and blue latex gloves entered the tasting room of the winery, which is located on Highway 1 in Grover Beach near the Amtrak station. The suspect, armed with a black semi-automatic pistol, bound an employee's wrists with duct tape, told the victim to remain inside a restroom and then stole about $400 cash.
At approximately 11:38 p.m., a robber wearing an old man mask, along with a suit and tie, entered a CVS pharmacy in Goleta. The suspect walked directly to the cashier, brandished a firearm from his waist and ordered the cashier to give him money, according to the Santa Barbara County Sheriff's Office.
The suspect left the CVS with an undisclosed amount of cash. Sheriff's deputies searched the area but did not find the suspect.
Sheriff's personnel say there is no direct information connecting the crimes. But, the robberies involved a suspect wearing a similar mask, a sheriff's office press release states.
Grover Beach police described the winery robber as a white male, 30 to 40-years-old, about 5 feet 8 inches tall and weighing about 140 pounds. The suspect was wearing tan cargo pants and a blue buttoned long sleeve shirt at the time of the robbery.
Santa Barbara sheriff's detectives describe the CVS robber as a white male who is approximately 5 feet 10 inches and between 160 and 180 pounds.
The CVS robber may have been driving a white truck, possibly a flat-bed. Witnesses saw the truck driving by the store multiple times before the robbery.
Witnesses also saw the truck as the suspect walked out of the store. Likewise, the truck appears in surveillance photos.
Sheriff's detectives are working on the robbery investigation in coordination with Grover Beach police.