Atheist United sign vandalized in Atascadero
September 21, 2015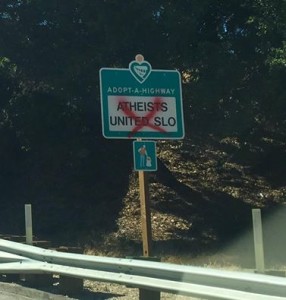 Motorists on southbound Highway 101 near Atascadero noticed Monday morning that an Atheists United San Luis Obispo highway cleanup sign had been vandalized.
The Caltrans Adopt-A-Highway program provides an avenue for individuals or organizations to help maintain sections of California's highways. Adopt-A-Highway signs provides recognition for the services provided.
"Atheist United SLO stands for reason, compassion, and tolerance for all people," said Atheist United SLO president Steven Arkowitz. "The highway sign is a symbol of the positive work we are dedicated to performing in our local community."
Atheist United SLO is a local nonprofit organization representing over 400 non-believers in San Luis Obispo County.
Caltrans removed the sign on Monday and plans to replace it.