Robert's Restaurant owner selling businesses to employees
September 15, 2015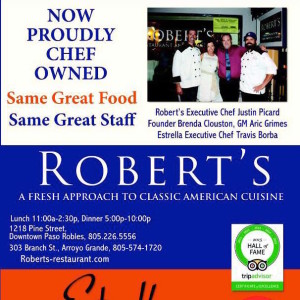 A San Luis Obispo County restaurant owner who was convicted of stealing from a 99-year-old woman is selling his businesses to his employees. [Tribune]
Robert Clouston was ordered in June to pay $327,000 in restitution for a scheme he carried out while acting as the elderly woman's trustee. Clouston placed a 17-acre Templeton property in an LLC he solely owned and then took out two hard money loans against the property.
Clouston used money from the second loan to buy three restaurants: Estrella in Arroyo Grande and Robert's Restaurant and Wine Bar in both Paso Robles and Arroyo Grande. He is now selling them to his executives chefs and the general manager of Estrella.
Justin Picard, executive chef at Robert's restaurants said he will own the Arroyo Grande location and co-own the Paso Robles restaurant with Travis Borba, executive chef at Estrella, and Aric Grimes, general manager of Estrella.
Picard is expected to have a majority ownership of the Paso Robles location. Borba and Grimes will co-own Estrella Restaurant.
The terms of the agreements have not been disclosed.
Picard has worked at Robert's Restaurant since its opening in Paso Robles in 2010. Borba has worked with Estrella since it opened in January 2012. Grimes began work at Estrella in January 2013.
Picard said Clouston is selling the three restaurants because he wanted to pursue other interests.