Super blood moon eclipse Sunday night
September 27, 2015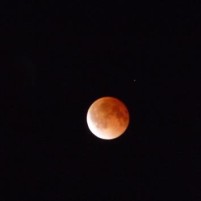 Central Coast stargazers will likely be watching the eclipse of the supermoon on Sunday evening.
A supermoon and a total lunar eclipse will be the star attractions Sunday evening. This full moon will be the closest of the year and will appear up to 14 percent larger and 30 percent brighter than a full moon at its farthest point from the Earth
At about 6:30 p.m., the moon will begin appearing over the horizon. From about 8:11 p.m. to 8:23 p.m., the moon will be totally covered in a red shadow. The moon will then completely emerge from the shadow by 9:27 p.m., according to the Grffith Observatory in Los Angeles.
Unlike solar eclipses, the lunar eclipse can be seen with the naked eye after nightfall. The combination of a supermoon and total lunar eclipse is happening for the first time in 30 years.