Baby otter rescued in Morro Bay
October 27, 2015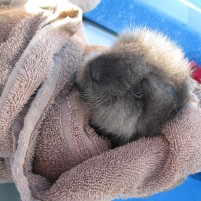 Kayakers and Morro Bay Harbor Patrol officers teamed up to rescue an abandoned baby otter.
The newborn female otter was recently found washed up on the sand spit and alone, according to the city of Morro Bay. Several residents of Morro Bay spotted the otter while they were on a kayak ride.
The kayakers took the otter into their care and called the harbor department.
Harbor patrol officers took the otter from the kayakers and transported it to the Monterey Bay Aquarium.
The baby otter is currently in the aquarium's intensive care unit, but it is doing well and is expected to be released in Monterey County.