Santa Barabara woman, world's oldest Facebook user, dies
October 27, 2015
A Santa Barbara woman known for her devotion to charity work and her profile on Facebook has died at the age of 107.
Edythe Kirchmaier gained fame late in life by becoming the world's oldest Facebook user. She signed up for the social media site on her 105th birthday.
Kirchmaier died on Saturday, according to Direct Relief, a Santa Barbara-based medical aid organization. Kirchmaier volunteered for Direct Relief for more than 40 years.
Kirchmaier passed away peacefully surrounded by her loving family, a Direct Relief press release states.
"Edythe's generosity of spirit, humble service to others and joyful embrace of life's wonders have been an inspiring example," the news release states. "The rare and precious twinkle in Edith's eye sparked for nearly 108 years."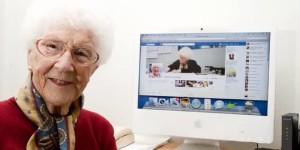 Kirchmaier had a long career as a social worker. Upon retirement, she taught English in Taiwan.
In her latter years, Kirchmaier appeared on the Ellen DeGeneres Show and continued to renew her California driver's license.
Facebook users from around the world are leaving messages on Kirchmaier's page. The Facebook page has more than 60,000 followers.