Car crash prompts scrutiny of Santa Barbara chief
October 8, 2015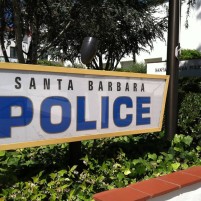 Santa Barbara Police Chief Cam Sanchez survived a serious car accident on Highway 101, but the crash has raised questions about the chief's use of public resources. [KEYT]
Last Friday morning, Sanchez was driving a city-owned SUV to Los Angeles International Airport to pick up the chief's daughter. Sanchez's wife and son-in-law were also in the vehicle.
Just after 6 a.m. as the chief was driving south bound between Santa Barbara and Ventura, a large wheel, suspected to have come from a semi-truck, flew through the windshield of the SUV. The wheel smashed the windshield and the top of the vehicle, and it caused the occupants of the SUV to suffer serious cuts and bruises.
Sanchez's wife was non-responsive immediately following the crash, the chief said. His son-in-law was bleeding profusely from his neck. Sanchez said he suffered a concussion, and at the time, they thought the injuries were life threatening.
An ambulance transported each of them to Cottage Hospital.
Following the crash, the Santa Barbara Police Department sent an on-duty officer to pick up Sanchez's daughter from LAX and bring her to Cottage Hospital. The officer took a plain car, Sanchez said.
Sanchez said he is hurt people would be so insensitive to the situation to claim he received special treatment.
The chief is on leave this week as he recovers.