Teen arrested for fake WMD at San Gabriel Elementary
October 15, 2015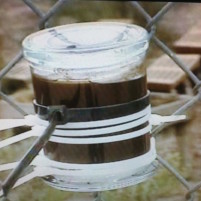 Authorities have arrested a 17-year-old Atascadero boy who they say placed a fake weapon of mass destruction at San Gabriel Elementary School. Police say the teen acted alone.
On Sept. 11, the San Luis Obispo County bomb squad removed a suspicious jar containing chemicals that was zip-tied to a fence near the playground at the Atascadero elementary school. Officers also found threatening letters that were addressed to teachers and left around the campus.
Laboratory test results showed the suspicious substance was sodium ferrocyanide mixed with a mildly acidic liquid. The substance was not capable of producing a dangerous gas, but it could have caused significant injury or death if a person ingested it, Atascadero police say.
Sodium ferrocyanide has common uses, including in photography and welding.
The substance officers found at the elementary was inside a six-inch candle jar. The wax had been removed from the candle holder, and a brown colored liquid was inside it.
A note placed nearby said the jar contained cyanide mixed with a strong acid.
The letters addressed to teachers contained instructions for locating a key. The letters directed teachers to the jar with the suspicious substance.
The notes also discussed playing a game and warned that children could be at risk.
"If these tasks are not completed by 8:00 a.m., there will be consequences to follow, possibly affecting the children. Make your choice," the letters stated.
Atascadero police say the letters contained language that resembled the horror movie "Saw."
Investigators are currently trying to determine whether the suspect tried to pin the acts on another juvenile.
The Atascadero Police Department conducted a joint investigation with the San Luis Obispo County District Attorney's Office and the FBI. Law enforcement officers served search warrants Wednesday morning and arrested the teen.
They previously identified him and interviewed him. Police say investigators traced the purchase of some of the items in the case to the boy.
Authorities are not identifying the 17-year-old.
He is charged with using a facsimile weapon of mass destruction and threatening to use a weapon of mass destruction. The teen is currently in custody at the San Luis Obispo County Juvenile Detention Center.
It is currently unclear whether the teen will be prosecuted as a juvenile or an adult.
Students returned to San Gabriel Elementary late last month after spending two weeks at nearby schools.