Forklift tips over in SLO, man severely injured
October 15, 2015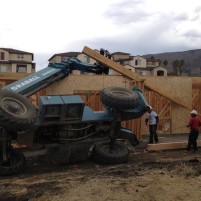 A worker suffered severe leg injuries after a forklift tipped over at a San Luis Obispo construction site.
The accident occurred Wednesday afternoon, according to the San Luis Obispo Fire Department. The man was taken to the Sierra Vista Hospital emergency room.
KSBY reports the man was driving the forklift on ground that was sloped and uneven. The forklift turned over, which caused the man to fall out and several heavy beams to fall on top of him.
One of the beams hit the man's leg, fracturing it in multiple places. No one else suffered any injuries in the accident.
The accident occurred at a construction site off Sacramento Drive. The fire department is notifying Cal/OSHA about the incident.