SLO County restaurants briefly lose liquor licenses
November 6, 2015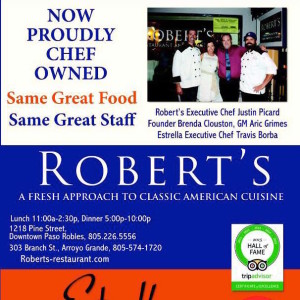 Three San Luis Obispo County restaurants previously owned by a man convicted of stealing from an elderly woman temporarily lost their liquor licenses. [KEYT]
Robert Clouston was ordered in June to pay $327,000 in restitution for a scheme he carried out while acting as a 99-year-old woman's trustee. Clouston placed a 17-acre Templeton property in an LLC he solely owned and then took out hard money loans against the property.
Clouston used the money from the second loan to buy three restaurants: Estrella in Arroyo Grande and Robert's Restaurant and Wine Bar in both Paso Robles and Arroyo Grande. Clouston recently sold the restaurants to his executive chefs and the general manager of Estrella.
A spokesman for the California Department of Alcoholic Beverage Control (ABC) said Clouston's LLC lost its liquor licenses for the restaurants. Each of the three locations received a notice of revocation from ABC in October.
However, the new owners can apply for their own liquor licenses. Estrella received a liquor license under the new ownership's name a week ago. Applications for the Robert's Restaurants are pending.
Both Robert's Restaurants are closed for October for remodelling. They will reopen in November, according to the restaurant's website.