County shuts down illegal gambling in Oceano and Nipomo
December 4, 2015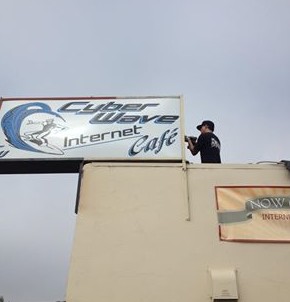 Two gambling operations were shut down this week after San Luis Obispo County officials determined they were operating illegally.
After receiving multiple complaints of drug use and prostitution in the area around the Cyber Wave Cafe's at 1945 Front Street in Oceano and 505 Orchard Road in Nipomo, the San Luis Obispo County Sheriff's Department hosted a town hall meeting on Oct. 27. Supervisor Lynn Compton, Sheriff Ian Parkinson and District Attorney Dan Dow listened as members of the public expressed their concerns.
Compton and Parkinson then worked together to research the complaints. As part of the investigation, Parkinson sent undercover officers to the cyber cafes.
After reviewing the operation, investigators determined the cafes were operating illegally.
County officials then contacted the out of area owner and informed him he was operating an illegal gambling business. The owner immediately agreed to shut down his Cyber Wave Internet Cafes in Oceano and Nipomo.