Diversity group, Cal Poly president march together
December 4, 2015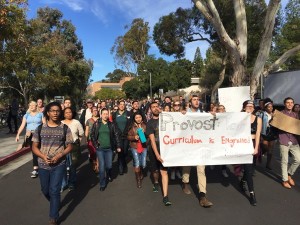 Cal Poly President Jeffrey Armstrong marched Thursday alongside a student group threatening his job. Hundreds of students, faculty, staff and supporters marched in solidarity with the cause "Cal Poly is no place for hate," according to the university.
Matt Klepfer, the leader of student group SLO Solidarity, called for the march after receiving a death threat on Tuesday. On Monday, SLO Solidarity sent a list of 41 demands to Cal Poly administrators.
The demands include mandatory women's and gender studies or ethnic studies courses for students in every major and a cultural sensitivity class on privilege, oppression, culture, society and campus climate. SLO Solidarity is also demanding gender-neutral or co-gender bathrooms and living quarters within campus dorms.
Likewise, the diversity group is demanding a dramatic increase in the hiring of tenure-line "faculty of color."
"If these demands cannot be met, we will demand a new administration which will treat underrepresented students with equity and make Cal Poly a place where everyone is equally empowered to obtain a high quality education," SLO Solidarity stated in its letter to administrators.
Video of Thursday's march shows students chanting, "We received a threat. What don't you get?" Armstrong was walking at the front of the crowd and directing the route of the march, video shows.
At the conclusion of the march, Armstrong addressed a crowd at the University Union plaza.
"Extremely proud of the Cal Poly community coming together today for the No Place for Hate march," Armstrong stated later in a tweet.
San Luis Obispo Mayor Jan Marx and Councilman John Ashbaugh also attended the March. So did San Luis Obispo County Supervisor Debbie Arnold.
The threat Klepfer received came in a Facebook message from a profile with the name Mordecai Shekelburg. The message included a jab at Jews.
"The day of the rope will be coming soon, and you people will be the first to go. If you don't like how it is in this town, you can all go somewhere else. We have a nice thing going here, and if you fuck with that you're going to have some pretty angry young white man on your hands. Kike."
In addition to leading SLO Solidarity, Klepfer is also president of the Cal Poly Queer Student Union. He studies political science, women and gender studies and music at the university.
Cal Poly administrators say they will propose policy changes before the current quarter ends later this month.
Protests over race relations at the University of Missouri recently led to the resignations of the chancellor and campus president.