Tree falls on vacationing family in Morro Bay
December 24, 2015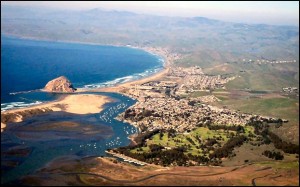 A large pine tree uprooted in Morro Bay Wednesday afternoon and fell on an SUV while a family of seven was inside. [KSBY]
Morro Bay fire officials estimated the tree was as tall as 100 feet. No one suffered any serious injuries, though.
The pine tree fell around 2 p.m. in the upper parking lot of Black Hill inside Morro Bay State Park. The family, which is from Arizona, was vacationing in the area at the time.
The tree smashed the SUV's windshield, and branches came through the vehicle's windows and sunroof. But, the vehicle structurally held most of the weight of the tree, Morro Bay Fire Captain Todd Gailey said.
No one had to go to the hospital. Most of the injuries suffered consisted of scrapes from broken glass and branches.
State parks officials say they believe recent rains and winds up to 35 mph uprooted the tree. The pine tree fell across a road and prevented three other vehicles from leaving the parking lot.
Crews responded to the area with chain saws to cut up the tree. Workers cleared the scene and the road reopened by 4 p.m.