ASH patient attacks elderly worker
February 26, 2016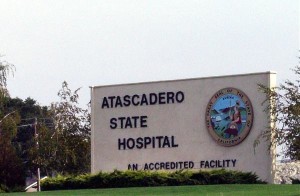 An Atascadero State Hospital patient attacked an elderly psychiatric technician Wednesday night, leaving the ASH employee hospitalized in the intensive care unit. [KSBY]
The patient attacked a male psychiatric technician in a hallway at ASH shortly after 9:30 p.m., according to the California Department of State Hospitals. Three other staffers who responded to the attack suffered minor injuries.
State hospital police arrested the patient for assault with a deadly weapon and elder abuse. Officers booked the patient into the San Luis Obispo County Jail.
The county sheriff's office website states hospital police arrested Henry Pellouchoud Scholten, 36. Scholten was booked in jail early Thursday morning on charges of battery causing serious bodily injury, elder abuse resulting in great bodily injury, assault causing great bodily injury and three counts of misdemeanor battery.
Scholten is listed as 6 feet tall and 180 pounds. He remains in jail with his bail set at $50,000.