Public comment on Phillips 66 rail spur drags on
February 26, 2016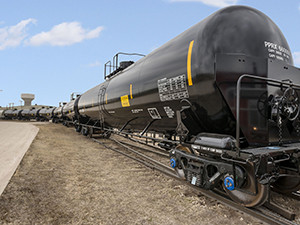 More than 100 public speakers addressed the San Luis Obispo County Planning Commission Thursday during the agency's third hearing on the Phillip 66's proposed rail spur. The planning commission has yet to start deliberating about the project.
Phillips 66 plans to build a rail spur so that crude oil currently delivered by pipeline could be transported to the Nipomo Mesa refinery by rail. The proposed project includes a 6,915-foot rail spur, an unloading facility, on-site pipelines, replacement of coke rail loading tracks and the construction of five parallel tracks with the capacity to hold a 5,190-foot train.
The project faces opposition from many county residents, as well as environmental activists from across California.
On Feb. 4, the planning commission held its first hearing on the rail spur proposal. Buses coming from the Nipomo Mesa, Santa Barbara, Los Angles and San Jose brought opponents of the project to the planning commission meeting.
A combined total of about 200 people made public comments during a two-day hearing on Feb. 4 and 5. The majority of the public speakers opposed Phillips 66's plan.
On Thursday, public comment split fairly evenly for and against the project. Supporters of the project discussed Phillips 66's strong safety record and the jobs the refinery provides. Opponents stressed the risk of a train derailment and oil spill.
County staff is recommending the planning commission reject the project because a rail spur could result in oil spills and fires, which could impact natural resources and agriculture. The report also says the project would generate toxic air emissions that exceed county thresholds.
Phillips 66 officials say oil production is decreasing in California, and the rail spur would allow the company to bring in crude from new suppliers.
Company officials have also said Phillips 66 would deliver the additional oil, even if the county denies the project. In that case, Phillips 66 plans to add about 100 truck trips per day to a pump station near Santa Maria. Oil is transported by pipeline from the pump station to the Nipomo refinery.
The next planning commission hearing on the rail spur project is scheduled for March 11. Public comment on the project will continue during the meeting, but commissioners are likely to begin deliberations. It is possible that the commission could rule on the project on March 11.
Regardless of how the planning commission rules, the rail spur project is expected to be appealed to the SLO County Board of Supervisors.