Boat capsizes in Morro Bay
February 15, 2016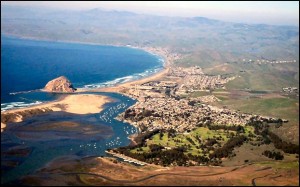 A boat capsized in Morro Bay Harbor Sunday afternoon after getting hit by high waves. All four occupants of the boat survived, but a woman and her 8-year-old girl inhaled significant amounts of water and remained in the hospital overnight.
Around 1 p.m., the Morro Bay Harbor Patrol received a mayday call about boaters in the area of the south jetty. The jetty is a rocky outcropping built to weaken the waves in the bay.
At the time of the mayday call, the waves in the area were about 10 to 12 feet high, according to the harbor patrol. A large wave hit the boat, and it capsized about 500 feet from the beach.
Boats do not often capsize in Morro Bay, Harbor Patrol Officer Scott Mather said. "I haven't hear a mayday call in years."
The boat's occupants, two men and the mother and daughter, went into the water. A harbor patrol rescue swimmer reached them within five minutes.
The rescue swimmer secured the mother and daughter under both of his arms and brought them to safety after receiving help from Morro Bay fire personnel who were riding a jet ski. The swimmer then retrieved the two men, bringing them to an area where the U.S. Coast Guard could assist with the rescue.
Responders transported all four occupants of the boat to the hospital.
Harbor patrol staff says the boat may have broken down before being hit by the waves. That gave the victims time to seek help.
After the boating accident, Coast Guard workers posted hazard warning signs in the area. The city of Morro Bay encourages water recreation enthusiasts to be mindful of conditions and avoid the water when waves are too high.