CSU faculty preparing for strike
February 9, 2016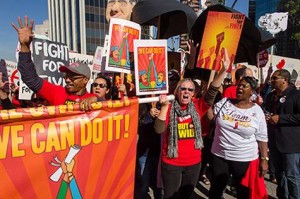 The California State University faculty union is planning a five-day strike in April. The possible strike is scheduled for a period that overlaps the Cal Poly Open House.
Union representatives are demanding a 5 percent salary hike for CSU faculty members with additional increases for years of service. The chancellor's office is offering a 2 percent salary increase.
The two side have been at odds since May 2014. Faculty union members have already voted in favor of striking if CSU administrators do not meet their salary demands.
On Saturday, the California Faculty Association announced that its board of directors chose April 13-15 and April 18-19 as the dates to hold the planned strike. Cal Poly's Open House will take place on April 14-16.
Many Cal Poly faculty members are members of the CSU faculty union. Last May, Cal Poly faculty members protested the discrepancy in pay between administrators and professors at the San Luis Obispo campus.
Union representatives and CSU administrators are currently in a fact-finding process. The union is allowed to begin striking 10 days after a mediator releases a fact-finding report.
Kevin Wehr, the chair of the Faculty Association's bargaining team, said the chancellor and his negotiators have failed to respect the faculty throughout the entire process.
"Too many CSU faculty members are falling out of the middle class or unable to rise into it," Wehr said. "That is painfully ironic given that the very purpose of a state university is to open the doors for our students to become middle class."