Offshore wind farm proposed near Morro Bay
March 13, 2016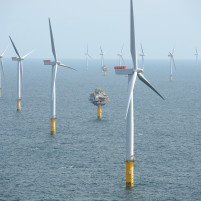 Correction: While the long blade turbines are being designed in the United States, it is not currently part of the Morro Bay project.
A plan to build a wind facility off the coast of Morro Bay  is currently moving through the regulatory process. Trident Winds is seeking to place 100 floating wind turbines 15 miles off the Central California coastline. [LA Times]
There are more than 70 offshore wind farms in the world, with the largest number in Europe. However, the Morro Bay offshore wind facility would be the first in California.
While today's longest wind turbine blades are 262.5 feet, a group is working on developing blades of 656.1 feet. Because of the size of the blades, the height of the the tower is estimated to rise 1,574 feet, or nearly one-third of a mile.
At a cost of $3.5 million, the U.S. Energy Department is funding the development of project's technology through its Advanced Research Projects Agency energy program. A team of four universities and two national laboratories has three years to build and test a scaled prototype, which is to have two blades instead of the standard three blade turbines, in order to move forward with the offshore wind farm.