Los Osos penalized for under reporting wages
April 17, 2016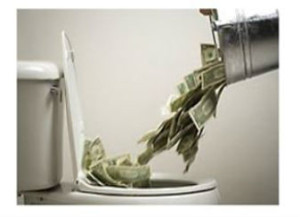 By KAREN VELIE
The Los Osos Community Services District owes fines and interest for under-reporting almost $100,000 in wages during the past two years. The penalties are a result of "quarterly and annual payroll reports not being filed or being filed incorrectly," according to a district staff report.
In a March 18 letter, the Social Security Administration informed the district that the amount of wages the district reported to Social Security differs by $94,000 from what the district filed with the Internal Revenue Service. If the district does not fix the discrepancies within 45 days, the IRS may charge a penalty, according to the letter.
In addition, the California Employment Development Department sent the district several notices of assessment for failing to properly report wages and pay for unemployment and disability insurances. In just penalties and interest, the district has been charged more than $10,000 in the past six months.
Last year, CalCoastNews analyzed former General Manager Kathy Kivley's personal payroll and found that she had overcompensated herself by approximately $6,000 during her two year term. Following a district funded two- month investigation into the financial irregularities, Kivley retired in January.
In February, the district hired Peter Kampa to serve as its interim general manager. Shortly afterwards, Kampa announced Michael Doyel was no longer employed as the district's accountant. Before he left, Doyle claimed that the district's monthly reports were finished and in order.
However, in an April staff report, Kampa said that Doyle left the district with nine months of incomplete financial reports and that a significant amount of work would be necessary to determine if the information given to the board since the beginning of the fiscal year in July is accurate.
"We refuse to give you those (financial statements) unless they are grounded in fact," Kampa said explaining while staff reports no longer include financial statements.
Kampa is currently working with three consultants — Warmerdam CPA Group, James & Company, CPA, and the district's previous accountant, Dale Flynn – to remedy the delinquent notices received from the Employment Development Department, Internal Revenue Services and the Social Security Administration.