Paso Robles man burglarizes grandparents home
April 12, 2016
Paso Robles police arrested a man for stealing thousands of dollars of jewelry from his grandparents home. Officer also arrested a second man for the burglary, and a third suspect remains on the run.
Matthew Sundahl, 27, allegedly burglarized his grandparents home on Sunday evening. The grandparents returned home around 7 p.m. while the burglary was in progress. They told police at least two burglars were inside the house at the time.
Sundahl's grandparents confronted one of the suspects, 25-year-old Jordan Nogo. They later determined the other suspect inside the house was their grandson.
Sundahl and Nogo fled the home, which is located in the 200 block of Palomino Circle. As they fled, Sundahl's grandparents observed a license plate number and relayed it to police.
Officers obtained the registration information for the vehicle, a white 2001 Chevrolet Malibu. The car was registered to an owner connected to a Paso Robles home on Pino Way.
Police staked out the home, and eventually the Chevrolet pulled up in the driveway. When officers stopped the car, a man and a woman got out and fled. Sundahl, who was driving the car, was arrested without incident.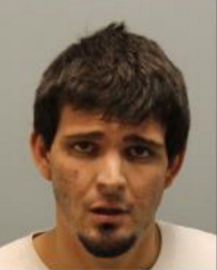 Officers searched the area and found Nogo hiding in nearby bushes. Police arrested him, but they did not locate the woman.
Police identified the woman as Michele Marie Chavez, 20. Chavez, like Sundahl and Nogo, is a Paso Robles resident.
Chavez is also wanted by the SLO County Probation Department for a no-bail probation violation warrant.
When officers searched the suspects' car, they recovered the stolen jewelry. Police returned the jewelry to Sundahl's grandparents.
Officers charged Sundahl and Nogo with residential burglary, conspiracy, receiving stolen property, elder abuse and possession of drug paraphernalia. Nogo also received a charge of resisting arrest.
Both Sundahl and Nogo remain in San Luis Obispo County Jail with their bail set at $50,000.
Investigators request that anyone with information about the case call the Paso Robles Police Department at (805) 237-6464.