State attorney pleads no contest in courtroom brawl case
April 13, 2016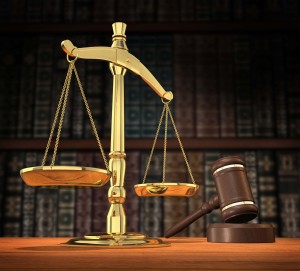 A California deputy attorney general has pleaded no contest to disturbing the peace for her role in a courtroom wrestling match with a San Luis Obispo bailiff. In exchange, prosecutors agreed to drop a greater charge of resisting a peace officer. [Tribune]
Deputy Attorney General Jennie Mariah Kelly, 49, entered her plea last Thursday in San Luis Obispo Superior Court. The plea deal requires her to pay a $1,000 fine and complete anger management classes.
On Oct. 20, a bailiff wrestled Kelly to the ground of a San Luis Obispo courtroom and arrested her for resisting or obstructing a peace officer. The incident occurred during a trial recess in a wrongful termination case against the California Men's Colony and Atascadero State Hospital.
During the case, Judge Barry LaBarbera admonished Kelly several times for her courtroom demeanor. When LaBarbera called a 15 minute recess on Oct. 20, Kelly began shouting and acting in an unprofessional manner toward the opposing attorney, according to a SLO sheriff's report. The sheriff's office said Kelly refused the bailiff's attempts to calm her.
Attorney Kara Stein-Conway, who represented Kelly, said the bailiff battered her client. Stein-Conway said the incident was a gross and unjustified overreaction to lawful conduct by Kelly. The bailiff battered her, forced her to the ground and pressed her head up against a metal rail, the defense attorney said.
Kelly returned to court the day following her arrest and continued defending the state. The trial ended Nov. 9 with a judgment that favored the state.