Election blast from the past
May 28, 2016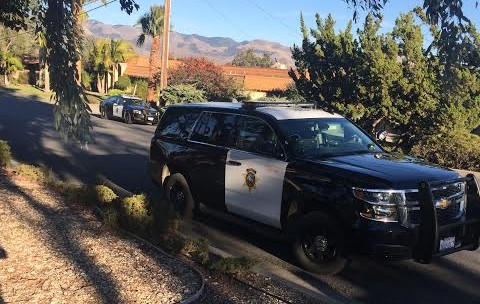 Taking a look back at San Luis Obispo County Supervisor Adam Hill's previous election races, shows allegations of bullying or harming a candidate's family is nothing new.
Several people who have donated money to District 3 candidate Dan Carpenter claim Hill has called them or sent emails questioning if they had chosen badly. Meanwhile, Hill and his wife Dee Torres allege that those who cover Hill or oppose his election are after their children. Hill has also claimed he is under a law enforcement order of protection, something the San Luis Obispo County Sheriff's Department denied.
Back in 2008, when Hill first ran against Jerry Lenthall for the District 3 supervisor seat, the race quickly became heated with allegations Hill was making threats and bullying. Hill responded with claims that Lenthall had shown disrespect to his family.
The following email chain exchange between Hill and Lenthall occurred in Jan. 2008:
From: adam hill
Sent: Saturday, January 05, 2008 5:19 PM
To: jerry lenthall
Subject: Pismo Forum January 20th
January 5, 2008
Dear Jerry,
As you know, the Pismo Beach Chamber of Commerce has scheduled a public forum on January 20th for the 3rd District Supervisor's race. They scheduled a venue, and made arrangements with AGP Video.
Unfortunately, we have been informed that you are refusing to participate, saying you will not agree to any forums until after the filing period.
As you and I are the only declared candidates, the only candidates raising money and enlisting support, your decision is arbitrary and seems guided only by a desire to forestall participating in public forums. If so, this is will be well publicized by my campaign.
Thus, I ask that you reconsider your decision, and furthermore, I ask again that you show my campaign the courtesy of providing your campaign's contact person so that we can move forward in making arrangements for several forums.
If I do not hear back from you, I'll call in to the Congalton show when you're on this Friday and we can discuss it on the air.
Sincerely,
Adam Hill
*******************************
January 10, 2008
Dear Adam,
Let me begin by saying how disappointed I am at your combative and argumentative attitude. The people of the Third District deserve a campaign conducted with dignity and respect, not one of name calling and threats.
It seems to me presumptuous for you and me to arrange a debate before the filing period has closed. I understand that you disagree with my opinion, but I am entitled to my point of view.
Beyond the issue of the filing period, you have insisted that we participate in a debate for the Third Supervisor's seat on a day that is two weeks before the presidential primary election and four and a half months before the local election. I don't believe that there will be any public interest in local elections until well after the presidential primary. Again, you may disagree, but that is my belief and I think that most people would agree with me.
There will be plenty of opportunity for the candidates for the Third District seat to appear and be heard at public meetings. As I have told you before, I don't think that it is your place, or that of your campaign's, to set up a series of debates. I intend on participating in a reasonable number of debates that are arranged by civic organizations which have organized these debates in the past. As a sitting supervisor, I have many duties that occupy my time both during the day and in the evenings. I expect to continue to carry out those duties and to campaign at times that will not interfere with my obligations as a supervisor.
Finally, it is your prerogative to call into the Congalton Show whenever you like, but please refrain from attempting to threaten me. Again, the citizens of the Third District deserve better than that.
As your request, your campaign representatives may contact Amber Johnson at Jerry@jerrylenthall.com to discuss campaign issues. I trust that she will be treated respectfully.
Sincerely,
Jerry Lenthall
*************************
January 10, 2008
Dear Jerry,
Thanks for getting back to me. I understand you are busy, and I will take you at your word that you will participate in a "reasonable number of debates." Despite your insistence that they not occur until after the filing period, it is still advisable to schedule them now for those dates after the filing period closes, as venue and video reservations need to be made in advance. I hope you will cooperate with this.
As for your remarks about me, we both know there is no substance to your claims. We also both know that when supporters of your campaign hired a law firm to investigate me, you could have put a quick end to it if you didn't think it was appropriate. You responded that it was simply something to be expected.
Such actions, Jerry, are clearly an attempt to intimidate me, and if anything shows disrespect for me, my family, and yes, even the voters of District Three, it is hiring a law firm to contact my employer (multiple times), the non-profits for which I volunteer, and the schools from which I earned degrees. Obviously, you approve of this, and it sent a strong, early signal of the direction your campaign will take. That, Jerry, is what is truly disappointing. If you wanted our rapport to be friendlier, you would not have allowed this.
Neither my campaign nor my supporters have done or will be doing such things to you. I do not think such tactics are appropriate. It is still my hope that the District Three race will be a contest of ideas and issues, and that it will be conducted with complete honesty and transparency. I am certainly committed to that.
Sincerely,
Adam Hill
---