Fire burns 150 acres near Shandon
May 11, 2016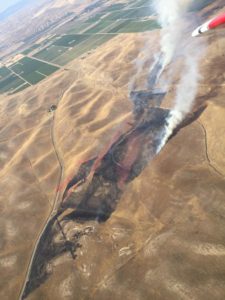 A vegetation fire burned about 150 acres Tuesday afternoon off Highway 41 near Shandon. Firefighters also dealt with a smaller fire in the area.
The fires broke out between Shandon and Shedd Canyon. They were about two miles apart from one another.
Cal Fire dubbed the larger blaze the Shedd Fire. It was situated between Highway 41 and Wood Canyon Road.
Cal Fire used three bulldozers, two crews, seven engines, four air tankers and one helicopter to put out the Shedd Fire to contain the fire Tuesday evening.
One firefighter had difficulty breathing and was taken to the hospital. Officials have yet to determine the cause of the fires.