Justin Vineyards tree removal violates county code
June 14, 2016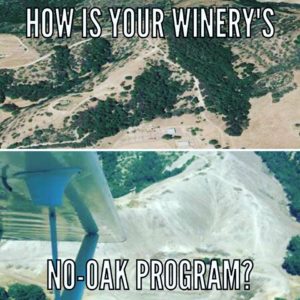 Justin Vineyards and Winery violated San Luis Obispo County grading code when it removed hundreds of oak trees from a rural Paso Robles property, a county code enforcement officer said Monday. The code enforcement officer spoke at a meeting of more than 50 residents who oppose the Justin Vineyards project.
Recently, workers removed hundreds of oak trees from a property located at 750 Sleepy Farm Road. The property is owned by Estate Vineyards and managed by Justin Vineyards. Workers removed the trees in preparation for planting a new vineyard that would be added to Justin Vineyards' collection. The project also involves the construction of a 20-acre-foot water storage pond.
Code enforcement officer R. Moore said county officials found Estate Vineyards to be in violation of grading without a permit on slopes in excess of 30 percent.
Removing oak trees on agricultural land is not prohibited by county code. However, county code regulates grading on steep slopes, which can cause erosion and creek sedimentation.
The Tribune reported that Estate Vineyards submitted a permit application for the construction of the water storage pond. The permit application stated no trees would be removed as a result of constructing the pond.
Several neighbors have spoken out against the Justin Vineyards project, saying oak trees make the Paso Robles area beautiful and removing them destroys the landscape. Additionally, neighbors are concerned the project may cause their wells to go dry.
Justin Vineyards has responded by saying the company will plant 5,000 oak trees across its properties. The wine company is owned by Beverly Hills billionaires Stewart and Lynda Resnick.
The Resnicks, who are one of the nation's wealthiest farm operators, had been major proponents of the failed effort to create a water district to manage the Paso Robles Groundwater Basin. Many local residents have accused the Resnicks of attempting to expand their water banking enterprise into North County. The Resnicks own a majority stake in the nearby Kern Water Bank.