New area code coming to San Luis Obispo County
June 26, 2016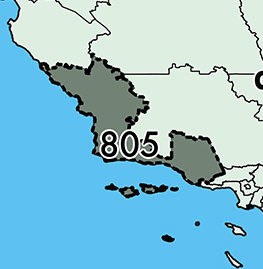 The California Public Utilities Commission is planning to introduce a new area code to the 805, which includes most of San Luis Obispo, Santa Barbara and Ventura counties, as well as small portions of Monterey and Kern counties. The 805 is expected to use up its available prefixes by Dec. 2018.
The CPUC will hold meetings on Aug. 22 and 23 to inform the public of the pending changes and listen to any concerns individuals may have about the new area code. Meetings will be held in Santa Barbara, San Luis Obispo and Oxnard. Check here for meeting times.
Even though a new area code is being added, existing 805 customers will be permitted to keep their current phone numbers, including area code.
The 805 area code serves the cities of Arroyo Grande, Atascadero, Grover Beach, Morro Bay, Pismo Beach and San Luis Obispo in San Luis Obispo County; Buellton, Carpinteria, Goleta, Guadalupe, Lompoc, Santa Barbara, Santa Maria and Solvang in Santa Barbara County; Camarillo, Fillmore, Moorpark, Ojai, Oxnard, Port Hueneme, Santa Paula, Simi Valley and Thousand Oaks and Ventura in Ventura County.
In 1957, the 805 area code was created because of a shortage of 213 area code prefixes.