Paso Robles family loses home to fire, but reclaims wedding ring
June 9, 2016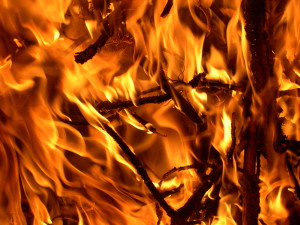 A UPS truck struck a power line in Paso Robles, sparking a fire that burned down a home on Wednesday. A wedding ring disappeared in the blaze, but a San Miguel firefighter found the ring and returned it to its owner. [KSBY]
Around 4:45 p.m., a UPS truck snagged power lines, sparking a garage fire in the 4800 block of Farousse Way, southeast of the Links Golf Course. The fire also spread to an adjacent home and surrounding grass.
Firefighters attacked the fire from the ground and from the air, but they could not salvage the house. The family lost numerous heirlooms in the blaze, including a black powder rifle and an 1800s horse carriage.
No one suffered injuries as a result of the fire.