Chimney Fire burns 30 SLO County homes
August 17, 2016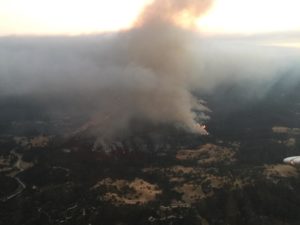 Following a destructive day, the Chimney Fire scorching North County near Lake Nacimiento has destroyed 30 homes. The blaze has also burned 10 outbuilding-type structures and damaged six other structures, according to Cal Fire.
As of Wednesday morning, the Chimney Fire has burned 7,300 acres and is 25 percent contained. It is currently threatening 232 structures.
The fire spanned 6,400 acres and was 10 percent contained Tuesday morning. The blaze grew by 500 acres during the day Tuesday and another 400 acres overnight.
Fire officials say hot and dry conditions in the area of the fire are expected to continue on Wednesday. Evacuation orders are currently in effect for the communities of Running Deer Ranch, Tri-County, Cal Shasta, Rancho de Lago and South Shore Village.
The fire started Saturday at approximately 4 p.m. southwest of Lake Nacimiento in the Running Deer Ranch area. One firefighter was injuries on Saturday. He was airlifted, treated at a hospital and released. A second person has also but injured, but it is not clear what happened.
A total of 2,270 fire personnel are currently battling the blaze. The cause of the fire remains under investigation.