Inmate escapes from Camp San Luis
August 29, 2016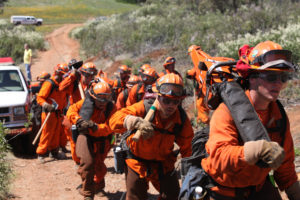 An inmate fighting the Chimney Fire escaped Monday morning from Camp San Luis prompting Cuesta College police to send an emergency alert out to students.
At about 5 a.m., the California Department of Corrections inmate escaped from "secured housing." The escapee is described as a 25-year-old Hispanic male, who is about 5 feet 10 inches tall, medium build, with black hair and brown eyes. His name is not currently available.
Cuesta College police are asking anyone who notices suspicious activity to call 805-546-3911.
"Officers are actively searching all San Luis Obispo campus buildings, but there are no changes or closures to the campus schedule at this time," the emergency alerts says. "His whereabouts and destination are unknown."
California Department of Corrections officials said they plan to release more information regarding the inmate later Monday morning. CCN will update the story as more information becomes available.