Are Morro Bay officials attempting to chip away at Measure D?
August 20, 2016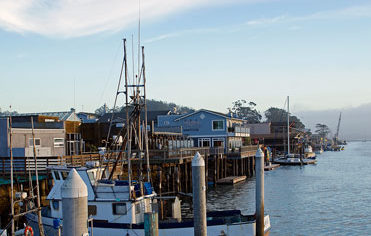 OPINION by LINDA STEDJEE
A Morro Bay law popularly known as "Measure D" is once again under serious assault by city government.
Measure D can be modified or removed from the municipal code only by a vote of the people. It appears that there is an attempt underway to circumvent the will of the people by "interpreting" Measure D to suit the agenda of one or more of Morro Bay's elected officials.
In 1981, Morro Bay fishermen Joe Giannini and Ed Ewing crafted Measure D to protect the local fishing industry. The measure sets aside the waterfront lease sites between Beach Street and Target Rock for uses "primarily for the purpose of serving or facilitating licensed commercial fishing activities or noncommercial recreational fishing activities, or is clearly incidental thereto."
Arguments in favor of the measure included: "This area is known throughout the world as the essence of Morro Bay, and its future should not be left to five council members subject to changing political pressures and self-interests. Measure D is short, direct, and easily understandable." and "The opponents know what it means and they fear it because it takes away their power to give financial favors to their friends."
Voters agreed and the measure passed and became part of the Morro Bay Municipal Code.
It appeared that Giannini and Ewing had scored a major victory. Unfortunately, they hadn't counted on opposition tactics that have been used repeatedly over the years:
1) If you don't like the law, just ignore it, and
2) "Interpret" the law in whatever way is necessary to support city government's agenda.
Measure D has been violated repeatedly using both of these approaches.
"For purposes of illustration only, and not by way of limitation, no approval shall be granted for any new passenger for hire boats or supporting facilities, or for any new restaurant, café, gift shop or other retail establishments serving the general public, and any existing such uses shall hereafter be considered nonconforming and shall not be expanded or enlarged," Measure D says.
The meaning of these statements is very clear to most people. Yet, businesses in the Measure D area have illegally expanded and new businesses having little or nothing to do with fishing have appeared. This was done with full knowledge and support of city government.
The most recent assault on Measure D comes in the form of a planning commission project, evidently chartered by elected officials, to come up with a new interpretation of the law. It appears to some residents that the push to reinterpret the measure is nothing more than a scheme to change the law without a vote of the people, with an ultimate goal of legitimizing existing and planned future violations. This attempt at an end run around the law has not gone unnoticed.
On Aug. 16, the planning commission began discussions of Measure D. During public comment, all speakers supported the measure and several speakers made clear their displeasure with the city's failure to respect the law.
Morro Bay resident George Leage told the commissioners that there have been and are many violations of Measure D, and noted that they are not the fault of the business people. They are the fault of city government, which allowed the violations to occur.
Discussions demonstrated a diversity of opinion. Staff and commissioner Tefft were adamant that the law was not clear. Commissioner Sadowski said it was very clear, and just needed to be enforced. Commissioner Ingraffia said the commission should be reading what is written, and not trying to read in things that are not there. He also appeared to suggest that the real issue underlying the situation might be a need or desire for more income from the lease sites.
Revenues from the sites go to the harbor department. In the past, the city has been accused of illegally siphoning off income from these sites for other purposes.
Money does seem to be at the root of the issue today. Many have long suspected that the city's agenda is to weaken Measure D to pave the way for major development in the area that is supposed to be reserved for commercial fishing.
Whether city government or the fishermen and their supporters will win this latest battle remains to be seen.
Even if formal reinterpretation of Measure D can be stopped, the law is being interpreted by city staff on an ongoing basis – something that was made very clear by staff comments at the August 16 meeting. City and harbor district staff work with potential lease site holders to determine what kinds of business will be established on the sites, and to negotiate contracts. By the time the planning commission and the public hear about a project, it is very close to being a "done deal."
It has been suggested that planning commission hearings, with the opportunity for public input, should be held before any contract negotiations take place. This might put a stop to violations of a law passed by the people to protect the town's fishing industry.