A 1/2 cent or a 1/2 percent sales tax?
September 3, 2016
By LAURA MORDAUNT
Words used in the San Luis Obispo County Measure J-16 on the Nov. 8 ballot will mislead voters by stating a ½ cent sales tax instead of what it truly is ½ percent sales tax increase. When propaganda and swaying the voter is your goal you use words like penny-cent instead of a multiplier that is a percentage.
Most voters understand that Sacramento has taken our sales based and other tax type dollars and chosen not to send them back to our county to fix roads and infrastructures that they are mandated to fix. San Luis Obispo Council of Government's survey, paid by your tax dollars, revealed that an increase in ½ percent countywide sales tax would fail to achieve the ⅔ votes needed in an election.
So they played and played until our city councils and special interests groups got compensated (bought off) resulting in local government support for this measure to be placed on the November ballot.
Don't be fooled or played by our county government or special interests supporting this new tax as there is no guarantee that your roads will ever be fixed. Other past tax dollars earmarked for roads did not return as promised.
This chart has been provided for those that may have been confused about the meaning of ½ cent versus ½ percent that county government chose for the verbiage of the ballot measure. The ballot measure should not have been allowed to use ½ cent as it is very misleading. Words do matter. Vote NO on Measure J-16.
Note: There is a correction on the following graph.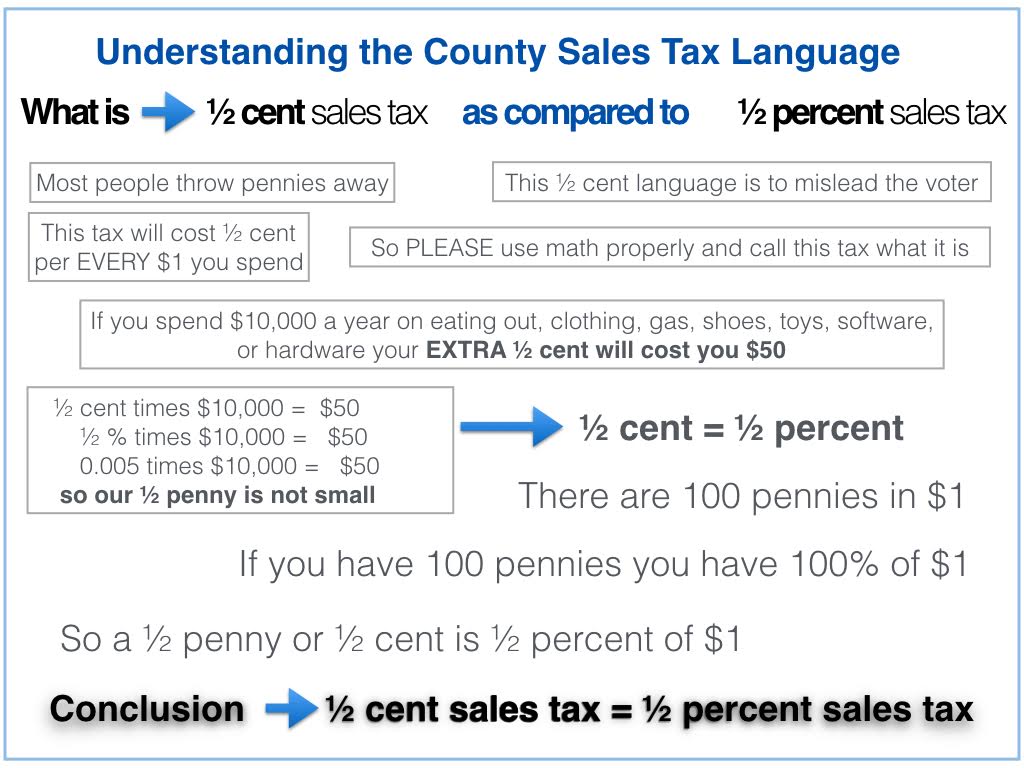 Laura Mordaunt resides in San Luis Obispo. She is a former aerospace systems engineer with a degree in Mathematics from San Jose State University.