Los Osos man facing prison time for burning his own home
September 22, 2016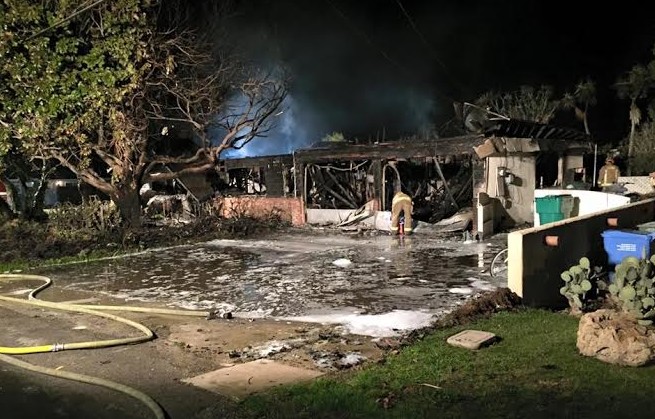 On top of destroying his own home and suffering third-degree burns on 30 percent of his body, a Los Osos man is now facing prison time — up to eight years and eight months.
On Wednesday, a San Luis Obispo jury convicted Mark Warren Hannah, 48, of felony arson and two counts of felony resisting officers by threat or violence. The San Luis Obispo County District Attorney's Office says all three of the charges stemmed from Feb. 8 when Hannah burned his home and resisted deputies who responded to the scene.
In its press release, the district attorney's office did not mention any findings relating to Hannah's sanity. Before Hannah set fire to his home, Hannah's family requested multiple times that sheriff's deputies check on him due to his mental state.
Hannah's family first requested the sheriff's office check on Hannah on Feb. 6. Deputies then knocked on the door of Hannah's home in the 600 block of Woodland Drive, but no one answered, and they left.
On Feb. 8, Hannah's family again asked for help. Deputies arrived as Hannah was driving away from his home and followed him onto Los Osos Valley Road, where they attempted to pull him over. But, Hannah ignored the patrol vehicle's flashing lights, and since he had not committed a crime, the deputies terminated their pursuit.
Shortly before 4 p.m. that day, Hannah lit a room inside his home on fire. By the time deputies arrived, Hannah was standing in his backyard with burns to his torso, face, feet and hands. His home was destroyed.
Emergency personnel transported Hannah to a burn center in Fresno where he was treated for third-degree burns over 30 percent of his body.  After Hannah spent nearly a month in the burn center, deputies arrested him and booked him in San Luis Obispo County Jail on charges of arson an evading an officer.
Hannah's sentencing is scheduled for Oct. 27. The Los Osos man was tried in Judge John Trice's courtroom.