SLO County man injured but alive after leap off Hawaii waterfall, video
September 12, 2016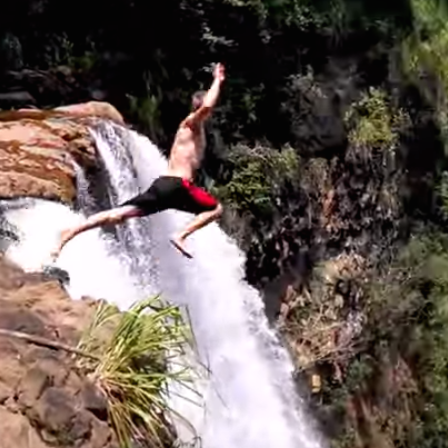 Prior to returning to his native San Luis Obispo County, a 21-year-old man living in Hawaii had a calling to jump off a Hawaiian waterfall. The landing knocked Shiloh Shahan unconscious and tore some of his chest and back muscles, but the Central Coast native was rescued by nearby tourists and survived. [Tribune]
On Sept. 1, Shahan visited the Wailua Falls with a friend. Shahan had lived and worked on the Hawaiian island of Kuai for about a year and a half. He said he wanted to make the most of his last few days on the island before returning to the mainland.
Shahan and his friend climbed to the top of the waterfall, which is between 80 and 173 feet above the water. A dispute lingers over the height of the Wailua Falls.
Shahan walked around the top of the falls, raised his hands into the air, then ran and jumped. After Shahan landed, his friend began screaming "Wake up!"
The friend filmed the jump, and the footage was uploaded to YouTube. A separate video was shot from below the fall. Neither video shows the rescue.
Following the jump, paramedics and police were called to the scene. An officer spoke with Shahan and asked him if he was trying to commit suicide.
Shahan said he was not trying to commit suicide. Rather, he jumped because he had a calling, and it was spiritual, he said.
The 21-year-old managed to leave the area under his own power. Shahan said he did not think he would have suffered injuries had he used proper form. He should have tucked his arms and chin instead of flailing, Shahan said. He also said he had read that other people had jumped and lived.
Shahan has since returned to San Luis Obispo County. He was born in Templeton and has family in Atascadero.
The Central Coast native says he now plans to pursue his dream of creating educational amusement parks for children. Shahan says he will next go to Los Angeles and possibly Las Vegas where he will campaign for his idea. But, he also says he has no problem "going with the wind."