SLO temporarily halts Chinatown project over Chumash aqueduct
September 20, 2016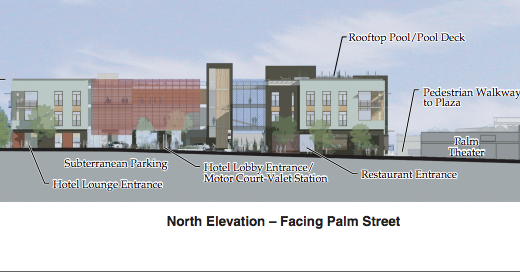 The city of San Luis Obispo has issued a stop-work order to Copeland Properties, the developer of the Chinatown project. The developer reportedly planned to remove a 250-year-old aqueduct that was built by the Chumash.
Last year, archeologist Barry Price and his team of workers unearthed the aqueduct, which the Chumash constructed during the mission-era. The aqueduct is located near Palm Street in downtown San Luis Obispo.
San Luis Obispo's cultural heritage committee has been negotiating with Copeland Properties in an attempt to at least preserve the aqueduct and possibly have it kept on display. But, the developer does not necessarily have to comply with the wishes of archeologists, the local Chumash community and others who want to preserve the aqueduct.
With the stop-work order in effect, city officials are reviewing development plans and exploring possible ways to preserve the artifact. The order only applies to the section of the construction site where the aqueduct is located.
The Chinatown project includes a hotel, apartments, retail space and underground parking.